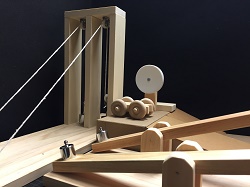 Seats are still available for this great program ~ call the Children's Room at (978) 456 - 2381 to register!
Simple Machines with David Hyde Costello
Grades 1 through 6
Wednesday, February 14 at 3:30
Attendance is limited to 50 children in Grades 1 through 6 – please pre-register by calling the Children's Room at (978) 456 - 2381.
Author, illustrator, artist, and inventor David Hyde Costello is coming to the library to present a program on Simple Machines. David will talk with the audience about the four simple machines – lever, pulley, wheel and axle, inclined plane – and show the ways simple machines come into his work building puppets. He will demonstrate the mechanisms of his six-foot-tall giraffe puppet, and of a small wooden fairy puppet. He will also bring models of the four simple machines and allow the audience to take turns manipulating them so they can physically feel the difference between a single pulley system and a double pulley system, etc.
David Hyde Costello is the author and illustrator of Here They Come, I Can Help, Little Pig Joins the Band, and Little Pig Saves the Ship. He is the illustrator of A Crow of His Own by Megan Down Lambert. He created the cover illustration for Shelly and the Secret Universe, a book which exists only in the Wes Anderson film Moonrise Kingdom. With a background in theater as well as visual arts, David has painted scenery for plays and motion pictures including Amistad, Spider-man (2002), The Fighter, and The Heat.