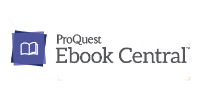 Detailed Instructions
Ebook Central is an extensive collection of 20,000+ eBook titles, published from January 2015 to the present, from premier international academic publishers. The collection focuses on
academic and research titles
in a wide range of nonfiction subject areas including:
Business Management
Computer Science/IT
Fine Arts
Environmental Studies
Health/Medicine/Psychology
Political and Social Science
Science (including Biology, Natural History, Chemistry & Physics)   
Titles can be browsed, read online, downloaded to a computer, or transferred to a variety of devices.  Ebook Central eBooks are protected with Adobe Digital Rights Management (DRM), which controls their loan periods, download, copy/paste, and print options.
Ebook Central is different than the other eBook collections available at the library.
The Ebook Central collection specializes in research materials and academic subjects.
You may browse the book for 3 minutes before you are required to borrow the book.
Most books are multi-use access – (multiple patrons can check out the same book at the same time) - there are no "holds" or waiting times.
Books are only lent for 24 hours.
If you need more time than 24 hours, just check out the book again.
Notes and bookmarks may be taken.
Depending on publisher restrictions, up to 20% of the book can be permanently downloaded and/or printed.
The books may be downloaded into the Blue Fire app for easier reading (instructions follow).
Logging into EBook Central
Select Harvard Public Library as the institution from the drop down and click Continue.
Note – Check "Remember my Institution"
To login to Ebook Central you will need your Harvard Public Library Card Number (User Name) and PIN (Password).
Your Harvard Public Library Card Number is the barcode number on the back of your card – enter with no spaces and if it begins with a "D" use a capital D. 
Your PIN is the same one that you use to sign into the C/W MARS catalog. If you have not yet signed into the catalog, it is the last four digits of your phone number or your last name in all capital letters.
If you are a Bromfield student and received your Harvard Public Library card through the school your PIN is Bromfield.