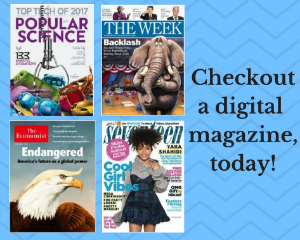 Looking for a Magazine?
Don't forget to checkout our downloadable magazine collection in RBdigital!
The Harvard Public Library offers magazines like Popular Science, Seventeen Magazine, The Week, The Economist and many more through the collection in RBdigital.
These magazines have unlimited checkouts and no due dates!
You can read them on your computer, or download the RBdigital app to your tablet or phone.
Having trouble? See our RBdigital help page for detailed instructions.
You may also call us at 978-456-4114 or email reference@harvardpubliclibrary.org with questions.