Teen Connections Book Group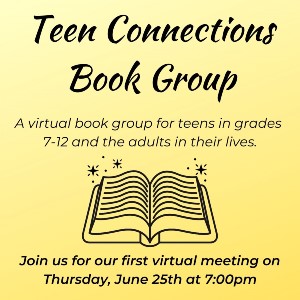 A NEW multi-generational book group hosted virtually by the librarians at the Harvard Public Library.
Have you ever heard of a Mother-Daughter Book Group? Teen Connections is a similar idea- but without the limitations of a specific gender or relationship. 
Teens if you have a parent, grandparent, aunt, uncle, or family friend you like to talk books with- invite them to join the group with you!
Teens:  Don't have an adult you'd like to invite? You are more than welcome to join the group solo and make connections along the way!
How Teen Connections Works:
Each month, members of Teen Connections will choose a teen novel or an adult novel that has been recommended for teens. Everyone will read the book. Adult/teen pairs are encouraged to talk about the book as they read.Once a month, the entire group will meet to discuss the book.
Our first virtual meeting will take place on Thursday, June 25th at 7:00pm.
At the first meeting, we will work to discover the kinds of books the group is interested in, with the goal of choosing the first 3 books we plan to read. We will also talk about what meeting days and times work best for the group.
Interested? 
You can join the group by sending an email to the Teen Librarian, Jill Hayes, at 
jhayes@cwmars.org
.
In your email, please include:
The names of the adult and teen who wish to join
The age of the teen
The title of each of your favorite books!
We look forward to talking books with you!