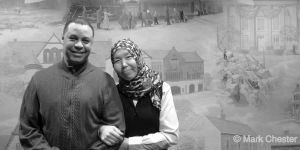 Building Bridges: Portraits of Immigrants and Refugees
Building Bridges is a phototext exhibit which highlights people who have come to the United States as immigrants and refugees.
The exhibit, which seeks to challenge damaging myths and stereotypes, is on display in the downstairs browsing room. 
This community event is open to everyone and is FREE thanks to generous funding from The Harvard Schools Trust. The exhibit will be at The Harvard Public Library from June 8th - 29th.
For more information contact Kathleen Doherty or Bryce Mattie-Brown at Bromfield.