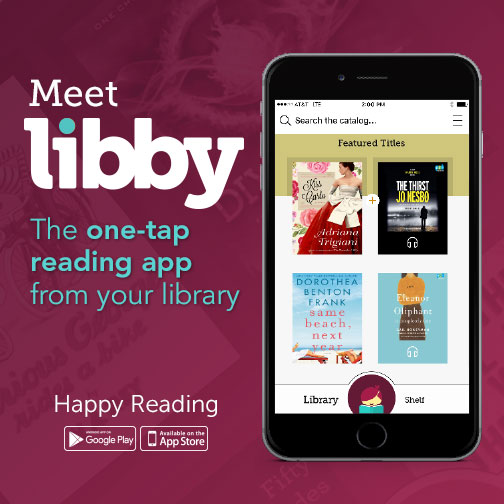 Libby is OverDrive's new, easy to use one-tap reading app for borrowing digital books and audiobooks from the C/W MARS OverDrive Collection. Whether you are a new user or a current OverDrive app user interested in a new reading experience, give Libby a try!
With the Libby app you can:
Stay signed in for as long as you like

Save multiple library cards to the app

Sample any book with a tap — nothing to download or delete

Try a zoomable graphic novel, or a picture book with readalong audio

All your holds and loans are consolidated on a single shelf

Tag titles as read and create wishlists

Your loans, holds, reading positions, bookmarks and notes are synchronized automatically across all your devices

Keep track of your reading history in the Activity tab
Will the Libby app replace the OverDrive app?
Not immediately. If you're a current user of the OverDrive app and love using it, please keep doing so.
The OverDrive app offers some features Libby doesn't yet offer, like streaming video, accessibility and a multilingual interface, so if you require those features, the OverDrive app will be a better option for now.
Which devices are compatibility with the Libby app?
The Libby app is compatible with Apple, Android and Windows 10 device users.  All other device users should continue to use the OverDrive app.
Can a user use both the OverDrive app and Libby and the same time?
Yes, but we recommend using one or the other for the best experience because the apps are not fully synced.
More information including app and help links are available on our OverDrive Learn More page.