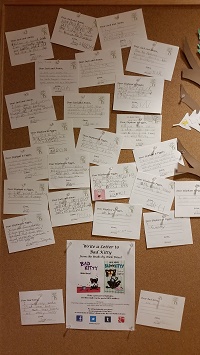 Look at all the awesome postcards from Harvard kids to Jack & Annie and Elephant & Piggie!
Bad Kitty is currently accepting mail - pick up a postcard at the children's desk, write a note to Bad Kitty, and then mail it in the special HPL mailbox.
The HPL Postmaster regularly picks up the mail and then displays the postcards on the bulletin board in the children's room.  It's so much fun to read what kids have written to the book characters!