Stuffed Animal Sleepover Information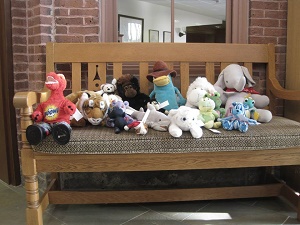 We would love to have your stuffed animal join us for the Stuffed Animal Sleepover!  See below for all the information you need for drop-off, pick-up, and photo/video viewing...
You can drop off your stuffed animals on Thursday, January 11 or Friday, January 12. 
The library is open from 10 to 9 on Thursday and from 10 to 2 on Friday.
Bring your animals in to the children's room, where they will receive a special identifying tag bracelet.
** Important: The library closes at 2:00 PM on Friday, so animals need to be dropped off before we close on Friday!
Pick up your stuffed friends on Saturday, January 13. 
The library is open from 10 to 4 on Saturday.  (It's ok to pick up animals on Tuesday, too!  But just a reminder that Monday is a holiday, and the library will be closed on Monday.)
For extra fun when picking up your stuffed animals, join in with the Saturday Storytime at 10:30 in the story room. 
Kids and their animal friends can enjoy some stories together!!  Teen volunteers will be leading this fun drop-in, themed half-hour Saturday Storytime; this week's theme is "Animals & Toys."
Photos and video of the stuffed animals having fun at the library will be posted on the Children's Room Facebook, Tumblr, and Google+ pages on Saturday the 13th!
Facebook will have a photo album, and Tumblr and Google+ will have a video.
Here are the links to the Children's Room Facebook, Tumblr, and Google+ pages:
https://www.facebook.com/pages/Childrens-Room-at-the-Harvard-Public-Libr...
http://childrensroom-harvardpublib.tumblr.com/
https://plus.google.com/u/0/b/105408139436040859672/105408139436040859672
 
Call the Children's Room at (978) 456 - 2381 with any questions!