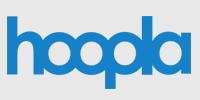 Detailed Instructions
Hoopla is a digital media service which enables patrons to borrow a selection of movies, television shows, educational/ instructional videos, documentaries, music, eBooks, eAudiobooks, comics, and graphic novels. With Hoopla, you can download and stream free videos, music, audiobooks, comics, and ebooks on your mobile device or computer.
Getting Started
Register for a hoopla account by visiting www.hoopladigital.com/home, or by using the hoopla app on your Apple, Android or Kindle Fire (HDX or newer HD only) device. You will need to provide an e-mail address, create a password, and have your Harvard Public Library card number ready. (Enter the number with no spaces and if it begins with a "D" use a capital D).
The free hoopla app can be found in the Apple App Store, the Google Play store and in Amazon Apps (The hoopla digital app currently supports the 7" and 8.9" Kindle Fire HDX tablets, along with all of the 2015 model Kindle Fire HD).
Easily browse titles on your computer or mobile device by clicking on the format you are interested in. You can also search for a specific title by clicking on the Search box or magnifying glass and typing in your title(s)/keyword.
To borrow a title, click on the title and then click the Borrow button. Your borrowed titles can be played right after borrowing, and found under the My Hoopla (IOS) or Borrowed (Android/Kindle Fire) menu for viewing/listening. Enjoy your selected titles!
Borrowed titles will be automatically returned when your lending period is over. There are no holds, wait lists, or late fees for any of hoopla's content.
hoopla Kids Mode
hoopla also offers a Kids Mode setting where all content shown while in Kids Mode is deemed suitable for children 12 years and under. You will not be able to see any other content when you are in Kids Mode.
To enter Kids Mode on a computer, sign into your account and go to the account settings by clicking on your email address at the top of the page. Check the Kids Mode box, then scroll down and select Update.
To enter Kids Mode in the Hoopla app, tap My Hoopla and then the account settings icon. Flip the toggle on to set the device to Kids Mode, then tap Cancel to exit account settings. To turn off Kids Mode, go back to settings and flip the toggle off.
Settings must be changed separately on your computer and in the app.
Frequently Asked Questions
How many items may I borrow from hoopla per month?
You can borrow 8 items per month.
When do the borrowing limits reset?
Borrowing limits reset on the first of each calendar month.
How long can I borrow items for?
Television and movies: 3 days
Music: 7 days
eBooks, Comics and graphic novels and eAudiobooks: 21 days
How can I use hoopla on the TV?
Interested in watching hoopla Videos on your home television? hoopla is presently compatible with both Apple TV and Chromecast devices. iOS users that have an Apple TV may simply mirror the content they see on their iOS mobile device to their television. Android users that have Chromecast have the ability to cast hoopla Digital videos to their television using either their PC or IOS/Android mobile device. Those with neither an Apple TV or Chromecast device can simply connect their device to their television using an HDMI adapter.
What do I need to use Hoopla on a Computer?
An internet connection to stream the content
The Google Widevine video player - for playing video content in Internet Explorer or Safari.
The Silverlight plugin - for playing video content in Firefox.