Bromfield Summer Reading!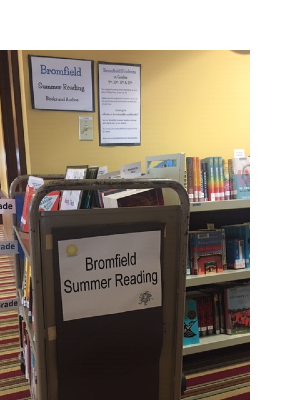 Looking for Bromfield Summer Reading books and audios?
The Harvard Public Library is happy to make available copies of required summer reading books for Bromfield students to borrow.
Students who come to the Harvard Public Library can find the Bromfield Summer Reading Cart upstairs next to the Reference Desk. There are copies of required summer reading titles both in print and audiobooks.
Through several separate digital collections, Harvard Public Library also offers Bromfield students digital versions of their required summer reading. Students may download copies (eBooks and eAudiobooks) from these digital collections. 
To access eBooks and eAudio books on the Bromfield Summer Reading list go to our online Bromfield Summer Reading page:
Information on availability of digital copies and links are available through this webpage.
Need assistance? Just call the Reference Desk at 978-456-4114 or email us at reference@harvardpubliclirbary.org.
Happy reading!