Cookbook Club ~ A Taste of World Cultures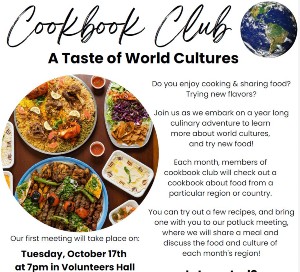 Do you enjoy cooking & sharing food? Trying new flavors?

Join us as we embark on a year long culinary adventure to learn more about world cultures, and try new food!

Each month, members of cookbook club will check out a cookbook about food from a particular region or country.

You can try out a few recipes, and bring one with you to our potluck meeting, where we will share a meal and discuss the food and culture of each month's region!

Our first meeting will take place on Tuesday, October 17th at 7pm in Volunteers Hall