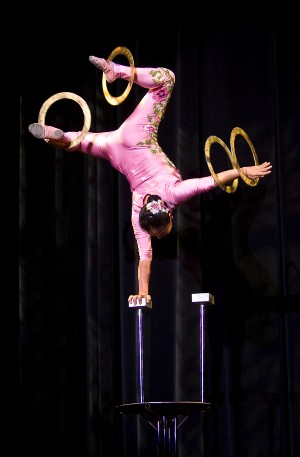 Chinese Acrobat Li Liu
Wednesday, May 11 at 4:00 PM
We are very excited to bring this mesmerizing and unique program to the library for a return visit!
Li Liu is a Chinese acrobat originally from the city of Shenyang in The Northeast of China who performs a 45 minute solo show. The performance includes hand balancing, plate spinning, trick cycling, foot juggling, ribbon dancing and Chinese water bowl manipulation.
Li also touches on various aspects of Chinese language, geography and culture while sharing her work and travel experiences with children and parents. Children get a hands-on shot at trying some of the easier (and safer!) skills such as ribbon dancing and basic plate spinning. They learn the historical significance of traditional lion and dragon dances and are encouraged to think about what it might have been like to grow up in a different time and place.
Li Liu's Chinese Acrobat program is a truly unique blending of entertainment and education, as she wows the crowd with her acrobatic feats and also provides cultural context for her performance. 
This show will be outdoors on the library lawn – bring a blanket or chairs for your family to sit on.
Registration is required.  Register by filling in this brief Google Form.