Lindsay & Her Puppet Pals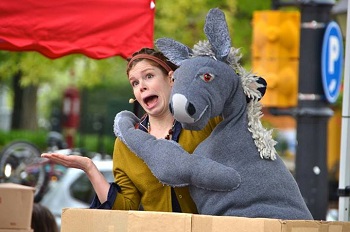 Lindsay & Her Puppet Pals are coming to the library on Tuesday afternoon!
Don't miss this awesome show!!! See below for details...
Lindsay & Her Puppet Pals
Tuesday, August 13 at 3:00 PM
Ages 3 – 8
Lindsay's highly interactive, comedic performances delight the young and the young at heart! These larger than life, hand crafted puppets charm even the most timid audience members and provide memorable characters for positive short stories and skits. Kids chatter about their favorite puppets and funny moments long after a show! Kids will meet several puppets throughout the performance. Perhaps a goofy penguin or moose, a heroic tiger, or a lovable bear. Oh my! Maybe a dancing robot or flamingo, an adorable mouse, a stubborn goat, a shy dragon, or a singing dinosaur! Come find out who's making an appearance this time! Lindsay's comedic animation and timing, high energy, and uncanny knack for silly voices electrifies young crowds (and mastery of gentle crowd control will bring them back!).
Seating is limited – please pre-register by calling the Children's Room at (978) 456 – 2381.