Live Virtual Concert with Red Yarn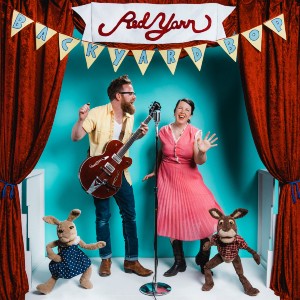 Live Virtual Concert with Red Yarn
Thursday, March 4 at 3:00 PM
All Ages
This program is supported in part by a grant from the Harvard Cultural Council, a local agency which is supported by the Massachusetts Cultural Council, a state agency.
We are SO excited to announce that musician and puppeteer Red Yarn (aka Andy Furgeson) will present a 45 minute livestream Zoom show for local families.
Red Yarn is a Texas-born, Oregon-based family performer who weaves folksongs and puppetry into high-energy, interactive shows for family audiences. With his engaging performances and lush folk-rock recordings, Red reinvigorates American folklore for younger generations.
With traditional and original songs that apply an indie aesthetic to folk, rockabilly, country and blues, Red Yarn's dynamic sound is both rooted and modern. Red Yarn's shows are a raucous, inclusive celebration of the multicultural musical heritage of the USA, and he will have the audience singing, dancing, stomping, clapping, and celebrating.
Red also introduces his Critter friends through the course of his show. These handmade animal puppets provide comic relief, calm and tender moments, and valuable social-emotional lessons.
Red Yarn has performed at Austin City Limits Festival, South by Southwest, Stagecoach Country Music Festival, Wolf Trap National Park for the Performing Arts, Symphony Space, Pickathon, Northwest String Summit, and libraries and children's museums across the country. Accolades for Red Yarn's albums include NAPPA Gold, Parents' Choice, and Fids & Kamily Music Awards, and frequent play on SiriusXM Kids Place Live.
Red Yarn has released six studio albums, most recently Backyard Bop in August, 2020, produced by GRAMMY-winner Dean Jones.
Registration is required; the Zoom link will be emailed to registrants the day prior to the program. 
Send an email to childrensroom@harvardpubliclibrary.org to register for this awesome event.