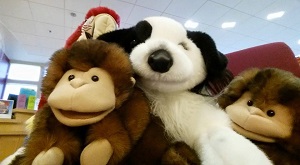 The storytime puppets (Pepper B. Collie, the two little monkeys, and Mrs. Perky Bird) are taking a well-deserved break from storytime today...
...but they will be back on Monday, October 15 at 10:30.  See you on the 15th!
Want to be in the know about storytime schedule changes?  Sign up for the storytime email list for last minute schedule changes to the Mother Goose on the Loose (Infant) Storytime. We will notify you by email in the morning if the librarian is out sick that day or if there is a delayed opening due to weather.
Call the Children's Room at (978) 456 - 2381 to be added to the list!