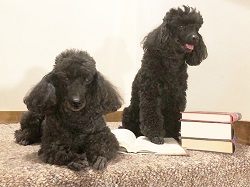 Paws and Read will be coming to the library starting on Wednesday, January 16!
Want more information?  Ready to register?  See below!
Paws and Read
Wednesdays, January 16 and 30 from 3:30 – 4:30 PM
Grades K and up
Pre-registration required ~ call the Children's Room at (978) 456 - 2381 to make your own special appointment to read to Faye or Rhia.
Reading to Faye or Rhia, the library's Therapy Dogs, is a fantastic way to bolster a child's reading confidence! Children who are independent readers can make a 15 minute appointment to read to one of these wonderful therapy dogs; on each date, 8 children total will get a chance to have either Faye or Rhia's undivided canine attention.