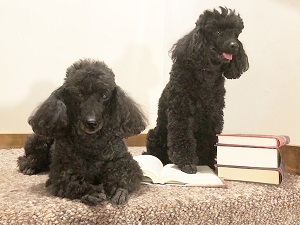 Paws and Read
Wednesdays, March 13 and 27 from 3:30 – 4:30 PM
Independent Readers Grades K and up
Pre-registration required ~ call the Children's Room at (978) 456 - 2381 to make your own special appointment to read to Faye or Rhia.
Reading to Faye or Rhia, the library's Therapy Dogs, is a fantastic way to bolster a child's reading confidence!
Children who are independent readers can make a 15 minute appointment to read to one of these wonderful therapy dogs; on each date, 8 children total will get a chance to have either Faye or Rhia's undivided canine attention.