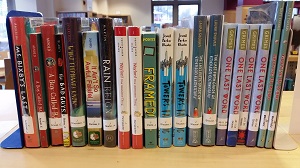 Things to do during school vacation week, part 5:
Read a book from the Massachusetts Children's Book Award Master List for the 2019 Award!
Are you in the 4th or 5th grade at HES?
Have you heard Mrs. Q. talk about the MCBA?
Would you like to read five of the books on the list so that you can vote for your favorite?
The MCBA books from the 2019 Master List are on display in the children's room and available to be checked out!