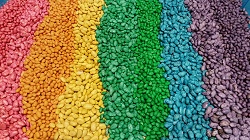 Sensory Playtime and Lego Club this Saturday - see below for more details...
Sensory Playtime – All Ages:  Saturday, September 15 from 10:30 to 11:30 AM
We will have several sensory stations with things to smell, touch, see, and hear in this interactive program that is designed to encourage sensory exploration for young children and their caregivers. Caregivers visit each sensory station with their children; we will have caregiver prompts at each station to help guide exploration and conversation between child and adult.  Sensory play sometimes gets a bit messy – it's a good idea to wear old clothes to this playtime!
Adult accompaniment required; drop-in, no registration.
Lego Club – Ages 5 & up:  Saturday, September 15 from 1:30 to 3:00 PM
Have fun building Lego creations with other Harvard Lego fans! Parents are encouraged to join in the fun & assist with supervision.  Please call the Children's Room for more information and to pre-register: (978) 456 - 2381.