Storytime for 2's & 3's ~ Ages 2 & 3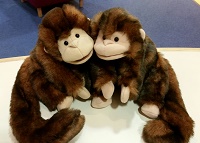 Wednesdays at 10:30 AM
This 20 to 30 minute theme-based storytime includes songs, simple stories, feltboard stories, and fingerplays appropriate for children aged 2 & 3 years old and their caregivers (older siblings are also welcome). Enrollment is limited to 24 adults and children, registration is required.
Registration is required for storytimes due to limited space.
Please register for each storytime individually.
Register for all storytimes by using this link to the Eventkeeper calendar: