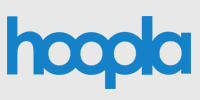 Detailed Instructions
hoopla is a digital media service which enables patrons to borrow a selection of movies, television shows, educational/instructional videos, documentaries, music, eBooks, eAudiobooks, comics, and graphic novels.
There are no holds and everything may be downloaded instantly!
3-Step Sign-up
Download the hoopla app (Android, Apple or Kindle Fire) or go to www.hoopladigital.com.
Log in with your Harvard Public Library Card Number (The barcode on the back of your card – enter with no spaces and if it begins with a "D" use a capital D).  
Borrow free digital movies, television shows, music, audiobooks, and eBooks!
hoopla Kids Mode
hoopla also offers a Kids Mode setting where all content shown while in Kids Mode is deemed suitable for children 12 years and under. You will not be able to see any other content when you are in Kids Mode.
Kids Mode on a Computer
To enter Kids Mode on a computer, sign into your account and go to the account settings at the top of the page.
Kids Mode in the hoopla App
To enter Kids Mode in the Hoopla app, tap My Hoopla and then the account settings icon.
Flip the toggle on to set the device to Kids Mode, then tap Cancel to exit account settings.
To turn off Kids Mode, go back to settings and flip the toggle off.
Kids Mode on Android TV or Fire TV
Using your remote, navigate to the blue side menu, then navigate down to settings.
Select Kids Mode  and select Turn On.
Settings must be changed separately on your computer, in the app and on your Android or Fire TV.  Kids Mode is not yet available in Apple TV or Roku.
hoopla Collection Highlights
eAudiobooks
hoopla offers a dynamic catalog of over 40,000 bestselling eAudiobooks.
While hoopla is restricted to certain publishers, it includes bestselling eAudiobooks from HarperCollins, Simon & Schuster, Macmillan, Hachette and Blackstone.
Several publishers provide their titles after a specified period of time. HarperCollins provides their full list to hoopla one year after release. Blackstone provides titles to hoopla three months after release.  The collection is constantly updated.
eAudiobooks checkout for 3 weeks.
eBooks
The eBook collection on hoopla is constantly growing as more publishers bring their content to hoopla's platform.
Elmo, Cookie Monster, Big Bird, and more beloved children's characters are now on hoopla! Sesame Workshop has joined the platform with a curated collection of eBooks, comics, and videos.
Lonely Planet, one of the world's most popular and trusted travel publishers, has added hundreds of titles to the eBook collection.
Grove/Atlantic, the renowned independent publisher of literary fiction, nonfiction, poetry, drama, and translations, brings their collection of award-winning titles and authors including Jeanette Winterson, Viet Thanh Nguyen, Roxane Gay, and more to hoopla.
Over 160,000 titles instantly available!
Comics and Graphic Novels
Over 9,000 titles instantly available!
Publishers include Dark Horse Comics, DC Comics, Disney Comics and Marvel.
Music
Music lovers will find thousands compilations, soundtracks, kids' tunes, and more.
Includes many new releases!
Videos
Movie vendors include Lionsgate, Paramount Broad, Green Pictures and more.
Interested in learning? Watch a Great Course or PBS series!
Nickelodeon videos are available for kids.
Frequently Asked Questions
How many items may I borrow from hoopla per month?
You can borrow 8 items per month.
When do the borrowing limits reset?
Borrowing limits reset on the first of each calendar month.
How long can I borrow items for?
Television and movies: 3 days
Music: 7 days
eBooks, Comics and graphic novels and eAudiobooks: 21 days
How can I use hoopla on the TV?
Interested in watching hoopla videos on your home television? hoopla has several options available.
There are native apps for Android TV, Apple TV, Fire TV and Roku. Use our detailed instructions on this page for adding the hoopla app to your streaming device.
In addition to using the hoopla Apple TV app, Apple iOS users that have an Apple TV may simply use Airplay to mirror the content they see on their iOS mobile device to their television.
Android users that have Chromecast have the ability to cast hoopla digital videos to their television using either their PC or IOS/Android mobile device.
Those with neither an Apple TV, Chromecast or other streaming device can simply connect their device to their television using an HDMI adapter.