Dungeons and Dragons Group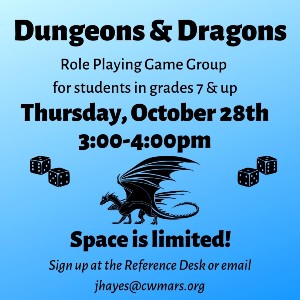 For students in grades 7 and up.
Curious about Dungeons and Dragons? Looking for companions to embark on a quest? Simply want to learn how to play?
Join us on Thursday, October 28th at 3pm for our first Dungeons and Dragons session.
This group is run by a teen volunteer, who will be acting as the Dungeon Master. At our first meeting you will learn how to create a character and how to play.
Space is limited! So sign up at the Reference Desk, or email the Teen Librarian, Jill Hayes at 
jhayes@cwmars.org