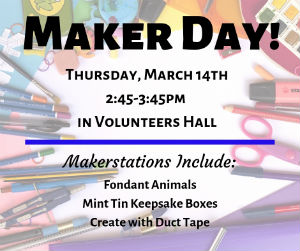 Join us next Thursday, March 14th from 2:45 pm to 3:45 pm for Maker Day!
This month's Makerstations will include:
FONDANT ANIMALS
Mold edible fondant to create adorable cupcake toppers!
MINT TIN KEEPSAKE BOXES
Use empty mint tins and a variety of collage materials to create useful and beautiful keepsake boxes
CREATE WITH DUCT TAPE
Use duct tape to make a duct tape wallet or book bag!
As always, a light snack will be available. Sign up at the Reference Desk to reserve a spot!