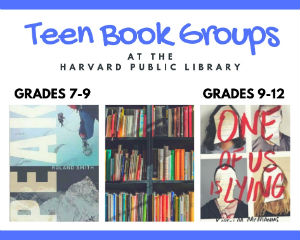 Like to read?  Like to talk?  Like to eat?
Join one of our Harvard Public Library Teen Book Groups!
Teen Book Group for Grades 7-9 will meet on Tuesday, October 8th from 4:30-5:30pm
Teen Book Group for Grades 9-12 will meet on Monday, October 7th from 3:00-4:00pm
Note: Students in 9th grade are encouraged to join whichever group suits their reading preferences and busy schedules!
A light snack will be provided.
Haven't read the book? No problem! Come to our first meeting and help us choose what to read next!