Teen Post-It Note Book Reviews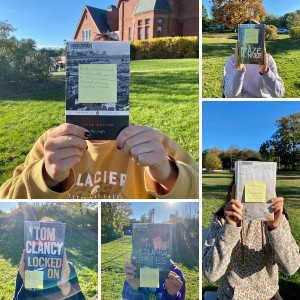 At our last Teen Advisory Board meeting- Harvard teens were challenged to review some of their favorite books, using only the small space of a Post-It Note!
You can see their recommendations in the photo. Below, are their typed up Post It Reviews:
The Maze Runner by James Dashner
Post-It Note Review:
Dystopian like The Hunger Games, action-packed yet full of emotion. The entire series is suspenseful, and the ending is satisfying but heartbreaking
Uglies by Scott Westerfeld
Post-It Note Review:
Highlight of my pre-teen years! 
Creative dystopian slang!
Fun inventions!
The Jungle by Upton Sinclair
Post-It Note Review:
Expertly detailed and described, the perfect journalistic piece from the gilded age. Exposes the horrors of the meat packing industry and capitalism more broadly.
The Young Elites by Marie Lu
Post-It Note Review:
Fantasy, Medieval, Romance
I think this book is an 8/10 YA read. IT is very intriguing to the point that it is sometimes hard to stop reading. If you like books like Six of Crows, I recommend this for you.
Locked On by Tom Clancy
Post-It Note Review:
Techno-thriller
An epic story with a complex plot about a Pakistan general and a nuclear weapon with a perfect ending.